Joanne Anderton (Jo Anderton) - The Bone Chime Song table of contents revealed
Joanne Anderton (known by her excellent Suited and Debris) has revealed table of contents for her upcoming short story collection The Bone Chime Song and other stories. The Bone Chime Song and other stories will be released in April 2013 by Fablecroft Press.
Order your copy here:
FableCroft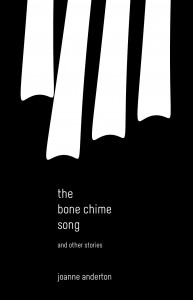 Table of contents:
Introduction – Kaaron Warren

The Bone Chime Song

Mah Song

Shadow of Drought

Sanaa's Army

From the Dry Heart to the Sea

Always a Price

Out Hunting for Teeth

Death Masque

Flowers in the shadow of the Garden

A Memory Trapped in Light

Trail of Dead

Fence Lines

Tied to the Waste
Upcoming4.me is a literary magazine featuring best content from leading quality publishers and independent authors. Our notable features include "Story Behind the Story" essays, "Cover art history" galleries, book reviews, cover art reveals, giveaways, and other noteworthy news. We are completely non-profit.